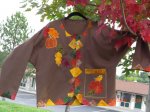 Harvest Time Applique

When you think of fall, colorful leaves and pumpkins come to mind. Now you can make a plain sweatshirt in to a wonderful jacket, with a cute finished edge. Some free motion adds just the right touch.


Price

$ 11.95

Quantity:






My Garden Crows

Watering can, flowers, and crows everything you find in your garden. These will make your sweatshirts beautiful and wanting you to make more.


Price

$ 11.95

Quantity:






Salt Box House Applique

Picture of beautiful scene of rolling hills with beautiful houses surrounded by rail fences and wandering sheep. With changes of fabrics and a bit of texture these applique patterns will change a plain sweatshirt into a wonderful work of art.


Price

$ 19.95

Quantity:






Snow Fun Applique

Everyone enjoys seeing a sled flying down a hill of freshly fallen snow. Now add a snowman and it is just so darn cute. This applique pattern make a wonderful scene out of a plain sweatshirt.


Price

$ 11.95

Quantity: