Antique Artistry

Make amazing items for gifts, a few for you and lots for your home. Create beautiful items with the look of yesteryear...all with the ease of an embroidery machine and a little help from Cindy. :o)


Price

$ 59.95

Quantity: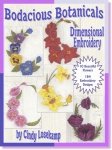 Bodacious Botanicals

Now you can create the kind of flowers that will be so beautiful you can almost sense their wonderful fragrances. Lilies, Bluebells, Clematis, and many more are here for your enjoyment. Flowers created off the fabric with threads and hand dyed fabrics, r


Price

$ 39.95

Quantity:






Rags to Riches

These two quilts have been on the drawing board for a long time...over three years to be exact. So now youŠ—Ère probably wondering about the name and why two. I am a romantic at heart...I remember sitting at my grandmaŠ—Ès house...thinking about the


Price

$ 69.95

Quantity:






Paper Baggie Maggie

What's that you say... make a bear out of a paper bag? That's right! You just won't believe your eyes when you see these cute teddy bears made out of paper bags. They are huggable and lovable but not quite washable.


Price

$ 19.95

Quantity: